Hand Woven Wool Rugs – Made in Vermont

"I spin wool year round using wool from my flock of sheep. Summer is the time for washing the sheep fleeces and for hand dyeing the fleece and wool yarns. My weaving takes place during the months of September through April.
My sheep are both colored and white breeds, mainly cross bred Cotswold-Border Leicesters. Our llama, Gannon, guards the flock in the pasture from coyotes and domestic dogs.
All my rugs are woven on a 45" four harness Clement loom. The rugs are woven with hand dyed, hand spun wool or unspun inlaid wool from my flock of sheep. I also use Barlettyarn rug yarn which I hand dye. Each rug is different in color, pattern and texture and reflects the high quality of Vermont crafts.
My work has been featured in the New York Times as well as in the book "New England, Land of Scenic Splendor", Special Publications Division, National Geographic Society."
– Marilyn Magnus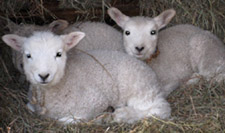 Click here for a list of fine shops and fiber festivals where you can see and purchase products from Magnus Wools.
Visit the Magnus Wools Etsy store
More about Peacham, VT: www.Peacham.net